September 13, 2011
The Music Under the Stars Show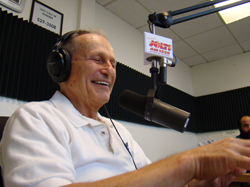 Fred and Jeff sit down with László Veres, Conductor and Music Director of the Tucson Pops Orchestra and the Arizona Symphonic Winds.
Since 1955, the Tucson Pops Orchestra has been sharing the joy of live music with audiences of all ages throughout Southern Arizona.  Founded by violinist Georges DeMeester and his collaborator Ernest Hoffman, this dedicated group of professional musicians first performed in various hotels throughout Tucson.  The "Pops" today performs at the renovated "DeMeester Outdoor Performance Center" named after the beloved founder of the Orchestra.
The Arizona Symphonic Winds is Southern Arizona's Premiere community concert band. Comprised of 65 volunteers, this musical organization presents concerts throughout the Tucson area and has been doing so for 20 years. Included in its repertoire are Broadway show tunes, orchestral transcriptions, movie themes, marches, and traditional band literature.
We encourage our listeners to make a donation here to the Tucson Pops Orchestra!!!
Podcast: Play in new window | Download (Duration: 54:08 — 31.0MB)