May 19, 2013
The Lofty Streets Show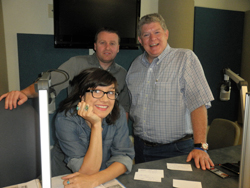 Fred and Jeff welcome Bridgitte Thum and David Leighton to the wonderfully crafted and executed program this week.
Bridgitte is hosting an event called the Lonely Hearts Club, part of the Happy Tuesdays program at The Loft Cinema.  Every Tuesday this summer local comedians take over the Mooney Backlot Bar & Lounge and present interactive programs ~ for FREE ~ to entertain, provoke and enlighten.  She also talks about The Loft's Digital Conversion Project.
David Leighton is the man responsible for the wonderful Street Smarts articles in the Arizona Daily Star.  He has a lot of fun stories to share about how our streets were named!
Podcast: Play in new window | Download (Duration: 47:22 — 21.7MB)