January 6, 2013
The January Downtown Show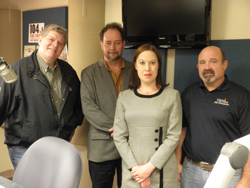 Fred and Jeff begin 2013 talking with some of the Superstars of ~ the Heart of the Old Pueblo ~ our wonderful Downtown.
Caitlin Jensen from the Downtown Tucson Partnership introduces Michael Sultzbach, Artistic Director of Beowulf Alley Theater Company, to you guys…our AWESOME listeners.  He'll talk about the current show and the upcoming season.
Also on the program, David Slutes from Hotel Congress will give us all the details about Dillinger Days and includes a teaser regarding a "Tucson Style" attempt at a Guinness World Record later this year!
Podcast: Play in new window | Download (Duration: 51:21 — 23.5MB)