July 5, 2011
The Pot Bellied Pig Show
And we're not talking about Fred and Jeff!!!  This week Fred and Jeff welcome Mary Schanz to the Big Show.  Mary is the President and Co-founder of the Ironwood Pig Sanctuary in Marana, Arizona.  The Sanctuary is home to over 600 pot bellied pigs and is dedicated to eliminating the suffering of pot bellied pigs in Arizona and surrounding states by promoting spaying and neutering, assisting owners and other sanctuaries, and providing a permanent home in a safe, nurturing environment for those that are abandoned, abused, neglected, or unwanted.
The boys also had a chat with the lovely ladies from Tucson Roller Derby!  They spoke about the Stars & Stripes Expo Bout coming up this Saturday, July 9th, at the new home of TRD ~ the Bookman's Event Center (5120 S. Julian Dr.)!!!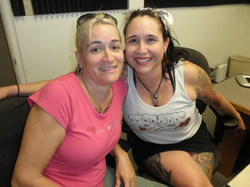 And if that wasn't enough…the Night-Blooming Cereus is about to bloom!!!  This only happens once a year and you can check it at at Tohono Chul Park or the Tucson Botanical Gardens.
Podcast: Play in new window | Download (Duration: 58:29 — 33.5MB)